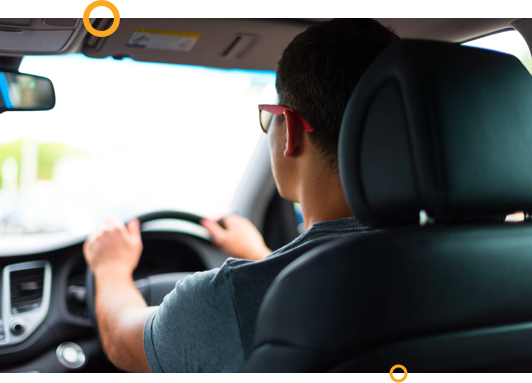 Best Place To Visit Waterfalls Around Chennai
Chennai is famous for many things, including its beautiful temples and historical landmarks, as well as its aromatic filter coffee, flavourful dosas, and beautiful Kanjeevaram sarees. Chennai's length and width are dotted with attractions that bring visitors from all over the world.
In the midst of a downpour, nature's greatest presents are waterfalls. Some Indian states are home to some of the world's most impressive waterfalls. There may be no waterfalls in Chennai itself, but there are plenty in the surrounding area. This monsoon, don't waste time indoors
.
The city's surrounding waterfalls are one such landmark. These waterfalls are guaranteed to fill you with joy due to their beautiful setting, breath-taking views, and gushing water.
So, you're planning a trip to Chennai, Tamil Nadu's capital, and you want to know where to find those breath-taking waterfalls. We've compiled a list excellent waterfalls in the area around Chennai so you can spend a relaxing day there with your loved ones. Jump in the water, right now!
1. An Overview of Tada Falls and Chittoor - 95km from Chennai
A stunning waterfall, Tada Falls (or Ubbalamudugu Falls) may be found in the Chittoor district of India, not far from the Tricity and Oneness Temple. The crystal-clear waterfall is a thing to behold as it cascades down the rocks from a height of about 100 metres.
Siddulaiah Kona forest, one of the city's most popular attractions, can be found close by and is a great spot to go hiking, camping, and other forest-related outdoor pursuits. In addition, Tada Falls is famous for its stunning scenery, which includes verdant valleys and mystical peaks. Lord Shiva worshipers attend along with regular visitors, nature lovers, and adventurers. Besides swimming and picnicking, trekking is the most popular activity around Tada Falls.
2. Tirupati, Nagalapuram – 74 km from Chennai
Nagalapuram is a peaceful spot hidden behind Andhra Pradesh's beautiful trees. Nagala Hills is recognised for its many outdoor activities. Nagalpuram Falls is also nearby. It's a set of 3 waterfalls with a beautiful panorama. Nagalapuram & Nagalpuram Falls are close to Chennai, hence many people visit from there. The route to the waterfalls begins in Arai Village and Nagala Dam. The dam offers a peaceful view and leads to the waterfalls. The walk begins on a plain till a brook. The water stream increases the challenge, so hikers must focus on every step. Water is beautiful and cruel. Intermittent waterfalls and lakes benefit hikers, particularly when the heat is high. After a long hike, a cool pool of water brings unmatched joy. Throwing the knapsack and shoes off while sprinting to the water and diving perfectly is rare.
Camping/Precautions: Some experienced trekkers stay in Nagalapuram after cleaning out the camping spots at their own risk. Females are advised to be accompanied by men in case of eve-teasing. Before approaching the village, trekkers must register at the Nagalapuram Police station.
3. Yelagiri Waterfalls, Amirthi Zoological Waterfalls Overview - 155 km from Chennai
Located in Vellore close to Yelagiri, the Amirthi Zoological Waterfalls may be seen on the grounds of the Amirthi Zoological Park. The natural beauty of the area, along with the crystal clear water that is pouring from a height, makes the location a sight to see that is absolutely mesmerising. A journey of about 1.5 kilometres is required to reach the waterfalls.
4. Talakona Waterfalls - 192 km from Chennai
These beautiful falls are in Sri Venkateswara National Park near Nerabailu, Andhra Pradesh. These 270-foot falls are beautiful in their green surrounds.The waters are believed to have therapeutic qualities, and the surrounding forest is home to endangered species like slender loris, golden gecko, and mouse deer.
5. Papanasam Waterfalls – 309 Km from Chennai
Sins are "absoluted" in Papanasam. Whoever bathes in these waterfalls will be cleansed of the sins and healed of their bodily ills, so the legend goes. In addition to rumoured healing abilities, a dip in these waters is said to feel like a luxurious oil massage.
The Papanasam municipality in the Thirunelveli district is home to these waterfalls. Regardless of one's religious beliefs, one cannot deny the breathtaking natural beauty of these waterfalls, which are set within the Western Ghats' dense woods.
6. Hogenakkal Overview – 342 Km from Chennai
Hogenakkal Falls is on caused Water in Tamil Nadu's Dharmapuri district. The word Hogenakkal means'smoking rocks because of the peculiar rock arrangement there. The flowing splendour of this waterfall is often called the "Niagara Falls of India."
The Kaveri River branches into many streams and falls in multiple steps, a mesmerising sight. Carbonatite rocks at these falls are the oldest in South Asia and among the oldest in the globe. Drinking water may be gotten from the falls, and the water is said to have healing characteristics due to the flora that bloom in its path. The Hogenakkal Falls are known for their beauty. Tourists can take a Coracle boat ride through one side of the river to the other or choose a lovely area to admire Hogenakkal Falls.
7. Bangalore's Chunchi Falls – 382 Km from Chennai
Chunchi waterfall is a 50-foot cascade fed by the Arkavati. Chunchi Falls is 83 miles from Bangalore and near Mekedatu and Sangama. Mekedatu is a stony valley, and Sangama is three rivers meeting. This picnic place is popular. Chuncha and Chunchi gave it its name. These falls are hidden away from commercialization and are generally deserted.
On the approach to Chunchi Waterfall, travellers pass a watchtower with a panoramic view of the rocky, forested countryside. You can hike to the falls if you're an adventurer. Chunchi falls has a power station. Before this power station, Chunchi Falls had plenty of water. The Chunchi falls have less water since the power station was built. It's unsafe and dangerous to approach the falls. Chunchi Falls has seen accidents. Staying until evening time is not recommended. Mishaps are likely when the site is vacant. Strong undercurrents and crocodiles restrict swimming.
It's a terrific place for family fun. Adventurers can explore below Chunchi falls. The waterfall almost flattens, so families can enjoy it. Mekedatu Falls, Bheemeshwari, Sangam, Galibore Fishing Camp and other Mysore attractions are nearby. Chunchi Falls tourists also visit Sangam and Mekedatu.
Because of the fact that water can be a lot of fun to mess around with, the waterfalls located close to Chennai are places that are both highly exciting and attractive. However, we shouldn't forget that any time we get too close to water without taking the appropriate safety measures, we run the risk of being severely injured, and this is perhaps the most crucial safety measure to observe whenever we go to one of these waterfalls.
India's 1st taxi price comparison & booking platform.
Affordable ac cab rides at your doorstep
India's affordable
taxi service